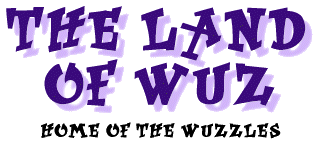 Here in The Land Of Wuz
They're having so much fun,
Cause everything
Is really two in one.
A little bit of this,
A little bit of that,
And when you add it up,
You get a lot of laughs.
Ooooh..they've got originality,
Living with a split personality.
We're the Wuzzles!
Legend says that The Land of Wuz is a place hidden somewhere
on earth where Wuzzles live. Most things in The Land of Wuz are
a combination of two things - for example, the birds bark, it rains
fruit juice and some cars look like trains. Wuzzles are characters
created by combining the physical appearance of two animals into
one - for instance Bumblelion is both a lion and a bumblebee.
'The Wuzzles' are a friendly group
of characters who would like to
welcome you to their home.
Originally conceptualised in 1984,
by Michael Eisner, they became
Disney's first regular animated
television series, leading the way
for other shows like 'The Gummi
Bears,' 'Tale Spin' and 'Gargoyles.'
The show was launched in 1985 in

association with toy manufacturer,

Hasbro. The first adventure, 'Bulls

of a Feather' in which the Wuzzles

find an egg and set out to return it to

its mother was released theatrically

in Britain, in March, 1986. Only 13

episodes were made in total, but

the release of a huge range of toys

ensured the Wuzzles popularity.
The Wuzzles would really like to show you around The Land
Of Wuz, and have put together the following links for you: