Despite what he might tell you, Eeyore
has many friends, with whom he has had
many wonderful adventures. To the
right, you can see him with just a couple
of them - Winnie the Pooh, Tigger and
Piglet. He lives with them all in the
Hundred Acre Wood (see map below).
Eeyore and his friends have a lot of fun

together over the years. They've done
everything from climbing trees for
honey to trying their luck at farming.
Eeyore and his friends from the Hundred

Acre Wood have also had some rather
unusual adventures too. For instance,
there was one occasion where Pooh was
just a little taller than usual.
Through all their adventures, Eeyore and

his friends have experienced many ups
and downs. But one thing Eeyore has
learned through it all, is that his friends
are always there for him, no matter what
(although, they did get a little annoyed
when he tried to be just like Tigger).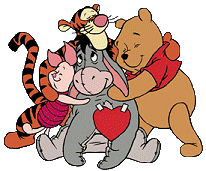 Everyone loves Eeyore, so next time, just
ignore him if he tries to tell you otherwise. :)